At Danann Crafts, we are passionate about highlighting the incredible local talent around our shores. Our 'Meet the Maker' series focuses on the work of contemporary artists and craftspeople that we stock in store and online. Today we will be speaking with Ciaran Headley who trades as CH Pottery.
Having spent most of his life working in education, with his later teaching years spent as a Principal of a large primary school in Belfast, Ciaran Headley re-trained by enrolling in a foundation course in Art. It was during this course that Ciaran encountered clay and fell in love with ceramics. After this experience, he swiftly enrolled in a course that taught ceramics exclusively. From here, CH Pottery was born.
Learning Again: Inspiration for Ceramics
The beginnings of CH Pottery were inspired by Rory Shearer, a Master Potter, who teaches in Belfast Metropolitan College. Ciaran took great pleasure in watching and listening to Rory who helped build his enthusiasm for ceramics. Soon, he was coiling and slab building, sculpting his first piece of ceramics – an aubergine!
In 2016, Ciaran realised his full passion for ceramics when he was able to throw a pot on a wheel and he hasn't stopped since. Someone who Ciaran derives inspiration from is the Welsh potter, Phil Rogers. After watching a video on Rogers making small Yunomi cups, Ciaran knew this was a vocation he simply wanted to have.
The Designs of CH Pottery
CH Pottery is rooted in the philosophy of function pottery. Ciaran wants to make pottery that people can use and enjoy every day from things like cups, jugs, plates, bowls, and mugs to vases for your flowers and even lamps on occasion.
After the item has been made, Ciaran ensures that ceramics are made in a limited range of colours that are mostly greens, blues, and browns. This muted palette is designed to reflect the colours of the Irish countryside where Ciaran resides.
On request, Ciaran can do requests so you can have your very own piece or pieces of CH Pottery. Recently, Ciaran has done commissions for a restaurant in Scotland as well as doing work for customers throughout Ireland and as far flung as the United States.
The Techniques and Tools That Make CH Pottery
Like every potter, Ciaran professes his greatest tool is his hands. To make ceramics, understanding how to shape and craft with your hands is critical to producing the work that you want to showcase.
To make his acclaimed pottery, Ciaran uses two main tools: his Shimpo Whisper Potter's Wheel and a large electric kiln that is used to fire all the pieces. Without these and the skill of a potter's hands, CH Pottery wouldn't be as successful as it is today.
CH Pottery is made using an electric kiln. These are closed boxes which are made from porous and soft bricks that are highly insulating. Within the electric kiln, there are channels grooved into the walls with coils that are made from special alloys.
Heat is then produced by a massive amount of electric current being forced through the tightly wound coils. This produces friction that creates heat which is easily controlled, reliable, and is, more importantly, even.
While CH Pottery is currently produced on an electric kiln, Ciaran has recently built a wood-fired kiln which will be developing CH Pottery once a local supply of kiln dried wood has been sourced.
CH Pottery's Favourite Designs and Commissions
While Ciaran has a wide array of designs, his favourite items to produce are mugs and bowls. His favourite commissions thus far include a full dinner service collection made for a customer in the United States and a full bespoke range of plates and bowls for a restaurant in Scotland.
The most recent piece of work that has been commissioned is a fermentation crock and a bread crock. While both are similar, they are used in entirely different ways. A fermentation crock is a stoneware pot designed to hold cabbage and vegetables as they ferment.
A bread crock has been used since medieval times and was an important piece of pottery in French and English homes. Bread dough would have been made up ahead of time and stored in a crock with a lid. If you wanted to bake a loaf of bread, you simply tore off a piece of dough when the time came. CH Pottery helps keep these traditions alive.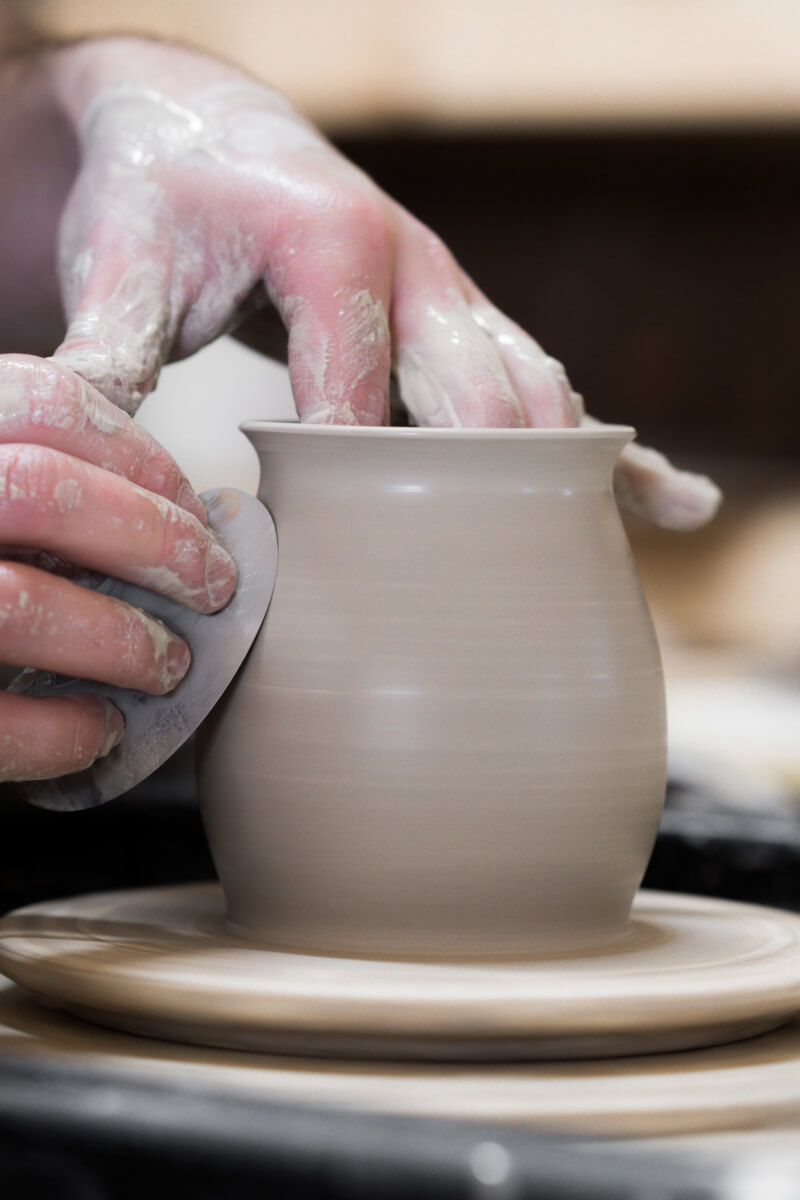 Ethical Making and Pottery
CH Pottery is built on ethical practices and while eventually Ciaran wants to harvest his own clay from the earth, this is currently impractical. However, CH Pottery is made from clay that is sourced from a local ceramics supplier.
On top of that, Ciaran endeavours to recycle as many of his materials as possible and makes maximum use of the electric kiln as possible by loading as many pieces into the kiln, saving energy. Another source of recycling for CH Pottery is the reuse of packaging materials for pots being sent to customers to try and minimise the amount of plastics in use.
How Did Covid Affect CH Pottery?
Like every business, COVID had an effect, particularly for brick and mortar stores. This affected stores where CH Pottery was sold which curtailed sales as well as the fairs and market which were showcasing the work. During lockdown, CH Pottery was mostly sold online in Ciaran's webstore.
However, with the lockdown gradually ending, opportunities for returning to sell and promote CH Pottery have been increasing. This has included selling work via local stockists like Danann Crafts and through the craft fairs and markets as they begin to open as well.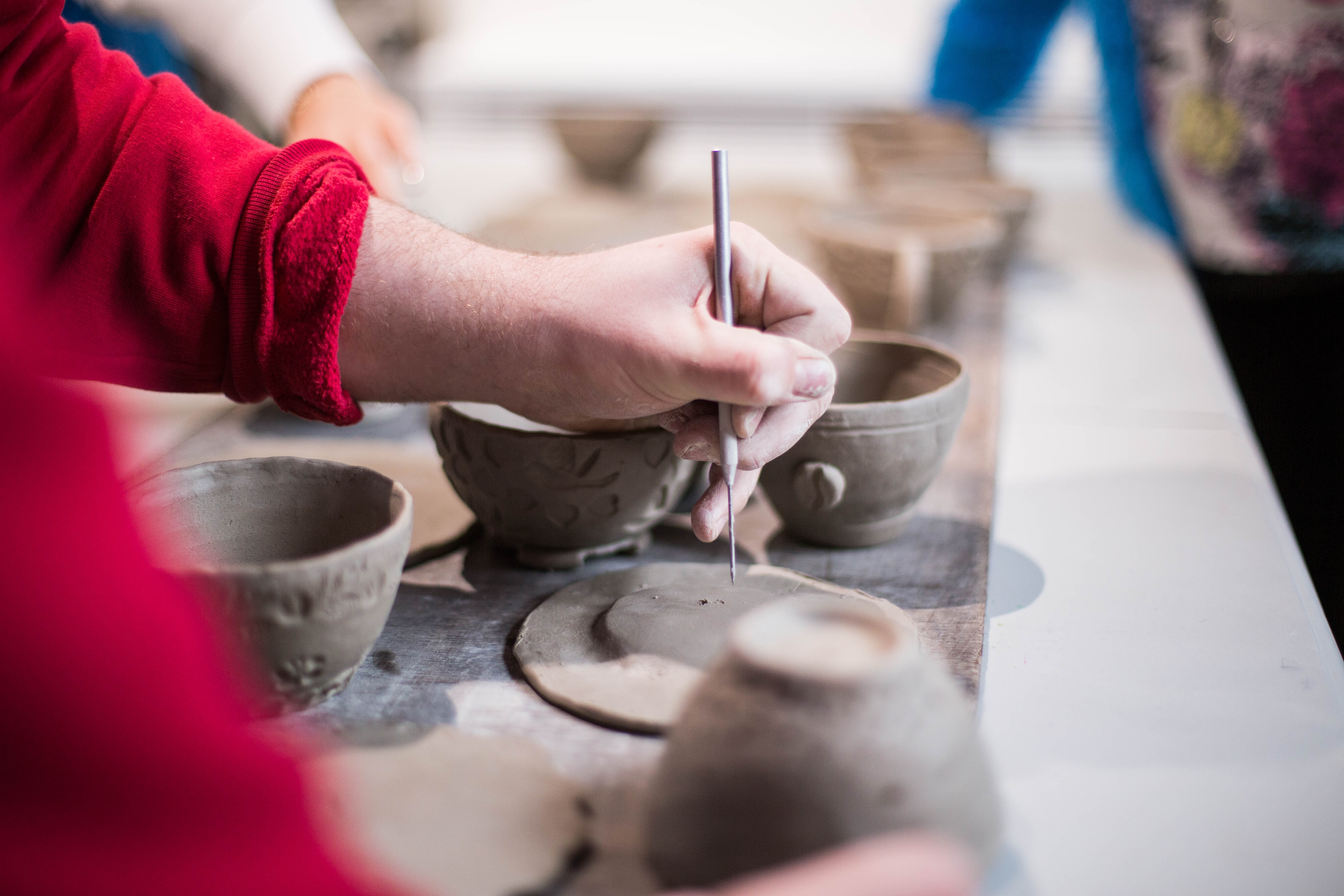 Buy CH Pottery with Danann Crafts
CH Pottery showcases some of the incredible ceramics that are created on the island of Ireland. At Danann Crafts, we are proud to stock some of the best Celtic and Irish makers, celebrating the craftsmanship and skill that goes into every piece.
If you'd like to purchase one of Ciaran's exquisite pieces of pottery, use our special code chblog10. This code will only be available for CH Pottery pieces until the 30th of August 2021, so don't miss the opportunity to get some of these special ceramics for such a great offer.