Chicken Glass Coaster – Art of Lise
£4.00
Bring a little bit of nature into your home with this beautifully made Animal Glass Coasters created by Art of Lise.
Artwork on coasters are part of Lise' collection of pieces titled "Apples"
Coasters measure 10x10cm in size.
Only 2 left in stock
More Products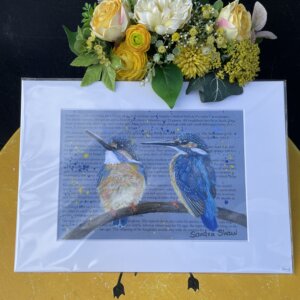 These Beautiful Art Prints were created by Sandra Shaw Art. What makes these prints particularly interesting is book-page-background which contains text about the particular painting. An ideal gift for any wild life lover, a beautiful and unique piece of art which would make a lovely addition to any home. Measurments approx 35cm x 28cm.