Halloween Paint Craft Pack!
£3.50
TRICK OR TREAT craft bag 
What's included in our packs:
2 Halloween decorations
+Mini Paints & Brush
In stock
Related products
Discover your little ones inner superhero. This pack will allow your little one to use their imagination and design their
Gorgeous MINIATURE Witch Ornament made using Cherry wood from Fallen tree in Glenavy - carved & varnished to high quality. Gorgeous, Unique & handmade! Made locally by SoftAsh Wood Crafts using local wood. World wide shipping available on request. [item code 244]
The Hills Are Calling! Backpack Pin! Wood Burned Plywood handmade in Belfast by The Dribbly Yak Cut from 3mm plywood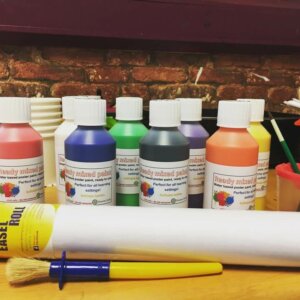 Child safe paint that's easy to wash off! Perfect for your little ones to create some colourful masterpieces. 🎨 Bottles are able to be REFILLED for a fraction of the price! adding a tiny bit of water to our paint can make them go a long long way. each bottle is 250ml (smaller bottles coming soon) 8 colours per pack  [Red, Yellow, Blue, Green, Orange, Purple, Black & White to choose from] Paint Pack sets available which include brushes, canvas paper, water tumblers & paint pallets - Please check our website 💖 search: "6pc Paint Pack Set (+Paper & Water Tumbler)" "8pc Paint Pack Set (+Paper & Water Tumbler)"