'Your Liver Says NO!' Ian Paisley Shiny Magnet Bottle Opener – Derry Nice Things
£4.50
Magnetic Shiny Bottle Openers with Hilarious designs made locally by Derry Nice Things.
Only 1 left in stock
SKU:

DNT-BO-05-1-1-1
Categories: Home Bar

,

Home Bar / Man Cave

,

Irish Souvenirs

,

Irish Souvenirs (re)

,

Quirky Irish Items

,

Slang Coasters / Mugs / Tea Towels
Tags: beer bottle

,

Bottle opener

,

Cans across the divide

,

Derry Girls

,

funny gift

,

funny irish

,

gift for her

,

gift for him

,

Ian Paisley

,

ireland

,

irish

,

irish beer

,

irish gift

,

Irish quote

,

irish slang

,

Jim mcdonald

,

line of duty

,

norn iron

,

northern ireland

,

sister michael

,

slang
More Products
Beautiful unique wood and crystal Moon Suncatchers with a popular family quote/saying inscribed into the Spalted Beech wood, which we make in Co. Leitrim, Ireland. We use ethically and locally sourced Irish wood and high-quality Egyptian Asfour crystals. When hung in a window the sunlight catches the crystal, which acts as a prism and disperses rainbows all around your room. This is an ideal gift from Ireland for any age or occasion, for him or for her, for weddings, remembrance, special occasions, new baby, christening gift or baby shower gift, birthdays, and Mother's Day. Or for anyone who just really deserves a gift! The finer details: The wooden moon is approximately 5″ long at its longest part. The Suncatcher comes with a crystal: Angel: a 0.75″ (20mm) ∅ Sphere Asfour crystal with Tibetan silver wings, a 0.4″(10mm)∅ Asfour crystal head and a Preciosa crystal crown (even tiny fairies wear crystal-encrusted crowns) The string measures approx 16″ (400mm) from the top of the moon to the metal hoop which is used for hanging. Please be aware that we have designed our suncatchers for indoor use and have not tested them outdoors. [Oak - code: SO1b]
Related products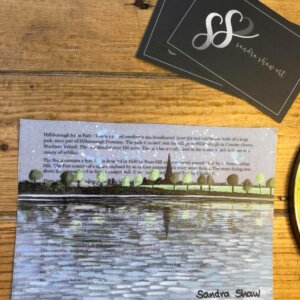 These adorable Mini Prints were created by Sandra Shaw Art. These Environment artworks are particularly interesting for their book-page-background which contains text about the particular area. A beautiful, small and unique addition to any home, Makes a perfect gift Mini prints are £4 each or 3 for £10, Many designs available! Measurments approx 14cm x 10cm.
This gorgeous ink print of The Copper Cost would be a perfect addition to any home or make the perfect gift.. Measuring in at 40x30cm (approx)
This gorgeous Irish Whiskey Marmalade is just one of a huge selection of Jam, Chutney & Marmalades available homemade by local business Baked In Belfast. Tasty treat to spice up your morning toast or Cheese n Crackers! "All our preserves are made using only natural ingredients, we don't use any preservatives or setting agents!" Each jar contains 100ml or approximately 120g, all have a bright red spotty front labels and an ingredient label on the back. (If a particular flavour is out of stock feel free to message our Facebook page as we can arrange to have more delivered in store!)
BRAND NEW SCENT! Ellie Mac collection of beautifully scented hand poured candles will for sure add a delightful smell to your home. Made in County Antrim! Stunning Rose gold tins containing 100% Soy Wax with an approx 40 hr burn time! For Peat Sake - Our Best Seller! Smells exactly like Glasgow Peat! A country side lovers dream. Huge Range of Candles & Wax melts available In store and Online