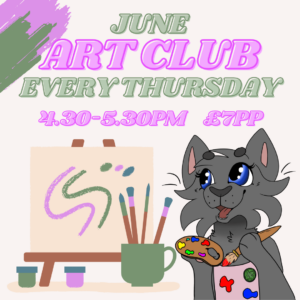 Our Art Club runs every Thursday from 4.30-5.30pm, this is a fun workshop where learning about different artists, techniques and paint/draw your own a study picture inspired by one of the artists.  This is a fun workshop that explores different techniques in painting and learning about some amazing artists that have influenced many around the world!
Limited spaces available
Ideal for ages 6-14yrs
Art studies of different movements from Classic to Impressionists, Pop art, Cubism etc
Thursday 1st June
Thursday 8th June
Thursday 15th June
Thursday 22nd June
Thursday 29th June
£7 per session or
Book all 5 dates  for  £30
Parents cannot stay in room with other kids. If wish to book our pink room please give us a call as this room is booked on a first come first serve basis.