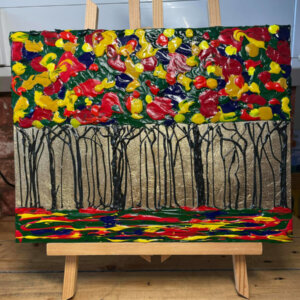 This Gorgeous Original Acrylic painting on Canvas made by Kateryna Zaichyk.Piece created in 2018.
A
One of a kind Original!
Measurements: 30cmx23cm[ready to hang]
Quote from Kateryna -"To me art is as important as air. My life has always been full of art in all its variety of forms. I achieved my Environment and Landscape Design degree at Kyiv State Institute of Decorative and Applied Art and Design  Michael Boychuk  named and National Leadership Culture and Arts Academy of Ukraine. I moved to Northern Ireland in 2013 and I find nature to be very inspiring. I see pictures not only from an artist's, but also from a designer's point of view. It is very important that a picture look perfect in its place. When I paint I always consider what interior the picture might fit into, so that it becomes an integral part of its environment. Harmony is very important to me. I love to combine colours, textures, techniques, and styles for unique and vibrant results. I like to evoke emotions in people by my pictures — I believe that looking at a picture should be an emotional experience for the viewer. In my pictures I have animals, landscapes, flowers, majestic nature, and architecture. There are also still lives, and figure drawings and paintings. I never stop developing and improving my talents and skills."
Search
"Kateryna Zaichyk"
on our website to find all of Katerina's work!