'Line of Duty' Magnet Bottle Opener – Derry Nice Things
£4.50
Magnetic Bottle Openers with Hilarious designs made locally by Derry Nice Things.
Only 1 left in stock
SKU:

DNT-BO-01-1
Categories: Home Bar

,

Home Bar / Man Cave

,

Irish Souvenirs

,

Irish Souvenirs (re)

,

Quirky Irish Items

,

Slang Coasters / Mugs / Tea Towels
Tags: beer bottle

,

Bottle opener

,

Derry Girls

,

funny gift

,

funny irish

,

gift for her

,

gift for him

,

ireland

,

irish

,

irish beer

,

irish gift

,

Irish quote

,

irish slang

,

line of duty

,

norn iron

,

northern ireland

,

slang
More Products
Gorgeous hand crafted genuine leather Keyring made by Journey Man Saddler. A unique gift idea! "The Journeyman Saddler has been working for over twenty years making and repairing all types of associated equestrian and leather goods, using the finest fittings and English saddle and bridle leathers available. We take great pride in creating either unique pieces or everyday items. Your item will be cut, shaped and stitched using age old skills and techniques which have remained unchanged for centuries. This ensures the finest quality craftsmanship. We also make a range of fashion items using bridle leathers in plain designs or with an equestrian theme."
Related products
This gorgeous Mini Guinness Statue makes the perfect decoration in any Man Bar - Or Guiness Lovers Home! Variety of Mini Guinness Statues available online Irish Road signs, Guinness Memorabilia and more available online. Search " Old Irish " on our site to see our entire range.
A beautiful Art Print made by Louise Lennon showcasing The amazing Samson and Goliath Cranes Print comes ready frame in a simplistic White Frame. Perfect addition to any home or as a gift!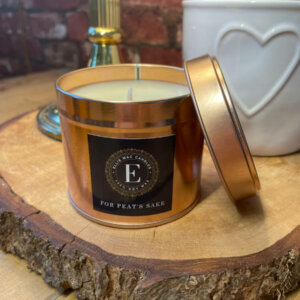 BRAND NEW SCENT! Ellie Mac collection of beautifully scented hand poured candles will for sure add a delightful smell to your home. Made in County Antrim! Stunning Rose gold tins containing 100% Soy Wax with an approx 40 hr burn time! For Peat Sake - Our Best Seller! Smells exactly like Glasgow Peat! A country side lovers dream. Huge Range of Candles & Wax melts available In store and Online
These adorable Mini Prints were created by Sandra Shaw Art. These Environment artworks are particularly interesting for their book-page-background which contains text about the particular area. A beautiful, small and unique addition to any home, Makes a perfect gift Mini prints are £4 each or 3 for £10, Many designs available! Measurments approx 14cm x 10cm.