Our wee country is home to many quirky phrases and slang words – so it is. Unless you are from Norn Iron, you probably wouldn't have a baldy what half of our phrases mean, and that's what makes it so class! We all have that particular slang word we catch ourselves using daily, whether it's "Now we're suckin diesel" "Ye Melter" "Ats us Nai" or "Eejit" we have plenty of quirky 'Norn Iron' gifts to offer you both in store and online that perfectly embodies the unique nature of Northern Ireland.
All our items are locally handmade right here in Northern Ireland – ensuring these hilarious and special gifts for your friends, family, or yourself are authentically Norn Iron! Not sure what to buy? We've picked some of our favourites to give you a flavour of our impressive stock.
Learning the Language: Slang Coasters, Mugs, and Tea Towels by Belfast Times
Need a gift that isn't pricey but packs a laugh? At £3.50, Belfast Times coasters are an affordable gift that anyone would find hilarious! Coupled with matching mugs and tea towels, there is a perfect gift for everyone. With over 20 coasters to choose from, you'll have a hard time picking which ones you like best. Some of our personal favourites include "Aye yer ma" "Wind yer neck in" and "Bout ye". Our entire Belfast Times range is available both in store and online.
Just Norn Iron Things: Hilarious Cards by Derry Nice Things
No matter the occasion, Derry Nice Things has a hilarious card that is perfect for you! Packed full of Norn Iron humour, these cards are sure to put a smile on everyone's face as soon as they open that envelope. Cards that highlight all the different sides of our community (no segregation or negativity allowed here). Whether you are a fan of Gerry Adams or if you prefer Ian Paisley – we have the right card for you! With a myriad of cards to choose from, don't miss out on giving a laugh to a loved one this year and a bit of Norn Iron humour.
Christmas Craic: Controversial Snowmen by Baked in Belfast
Similar to our quirky cards, at DanannCrafts, we embrace all humour within our little 'oul Country! One of our best sellers at Christmas is our ceramic Hibernian and Orange-man Snowmen decorations made by Baked in Belfast. A hilarious and totally unique addition to any Christmas Tree, it has be come an extremely popular gift, showcasing some of the best humour our country can provide. Our snowmen are available for a 'fiver' (£5.00) but if you would prefer simpler designs, we have those types of snowmen too!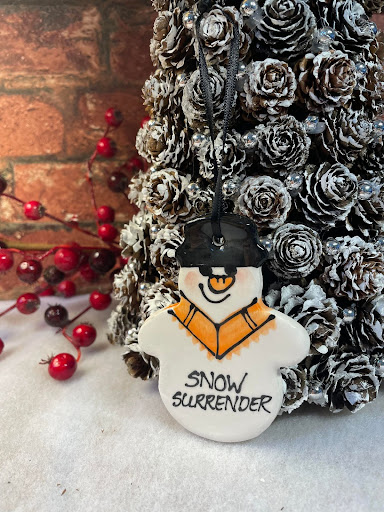 Cool and Quirky Items by The Dribbly Yak
The Dribbly Yak is a Belfast based husband and wife team making hilarious wooden, laser-cut items that you cannot find anywhere else. Their talent in wood crafts ranges all the way from decorative pins to large, wall-hanging, bottle openers. Don't miss out on their incredible selection and for lovers of woodworking!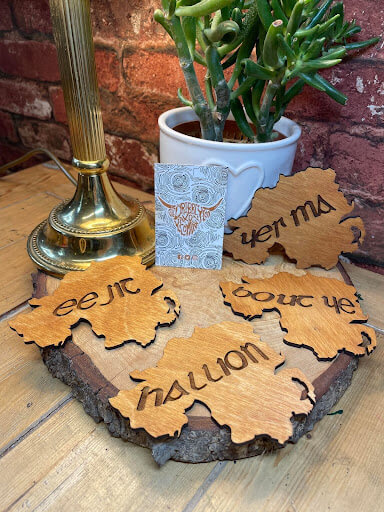 Norn Iron, Aye: Funny Phrase Candles by Scents by Suzanne – So It Is
A new stockist in our wee 'shap' is Scents by Suzanne – So it is! Not only do these candles have funny Norn Iron slang names, they also smell amazing. Although new, these candles have been very popular and play on the nuanced language of our wee country. Over ten hilarious phrases to choose from, all with beautiful scents. These miniature candles are made locally in Portadown, County Armagh and while candles are a very common gift given, why not change it up a bit and add some slang to it. Priced at £6.50, they are an affordable gift that will bring a smile to someone's face.
Have you got a favourite item already?
Check out more of our stuff In our wee shop at 52 William Street, Lurgan, Craigavon BT66 6JB and Online at www.DanannCrafts.com 
(yes – we ship and offer FREE in-store click and collect)