At Danann Crafts, we are passionate about highlighting the incredible local talent around our shores. Our 'Meet the Maker' series focuses on the work of contemporary artists and craftspeople that we stock in store and online. Today we will be speaking with Sandra Shaw who trades as Sandra Shaw Art. 
Based in Hillsborough, County Down, Sandra Shaw was a primary school teacher for 28 years before setting up her art business. Fulfilling a lifelong ambition of having a business selling her art, Sandra lives on a dairy farm and her work takes inspiration from the flora and fauna she encounters while milking the cows and being in nature.
The Beginnings of Sandra Shaw Art
A passionate teacher, Sandra Shaw Art was established when Sandra decided to apply for a career break to give her the opportunity to explore her creativity. This allowed Sandra to set up Sandra Shaw Art as a functioning business in 2020. 
Through honing her techniques and skills, she began to develop her ideas through painting every day. Having fallen in love with creating after studying art at university, family obligations and work left Sandra little time to pursue her art and now she is thriving, producing custom pieces that celebrate the flora and fauna of her area.
Now selling in a few select shops, including Danann Crafts, Sandra Shaw Art also offers tailored workshops for those who want to learn more about arts and crafts in smaller groups. During the lockdown period, those workshops were impossible to host so Sandra began selling her products online.
Designing the Landscape: Inspiration for Natural Works
Like most artists, Sandra began her love affair with art and crafts when in primary school. While not coming from an artistic family, Sandra experienced encouragement from her art teachers at O and A level, driving her enthusiasm and inspiring her to continue her studies to university level. 
When beginning to paint, Sandra experimented by painting on top of printing paper, using the incredible landscapes that surrounded her home and the wildlife she saw there to inspire her. After this produced stunning pieces, Sandra began to sell these as original prints.
It was a commission that inspired the work that Sandra Shaw Art has become synonymous with – wood paintings. After a client requested a painting on wood, Sandra began to experiment with natural wood pieces and log slices, painting scenes of flora and fauna.
This experimental and commissioned work has now become some of Sandra's signature pieces. With gorgeous texture and patterns and the wood allowing for rich colours, the wood allows a strong narrative to form creating visual stories for everyone to enjoy.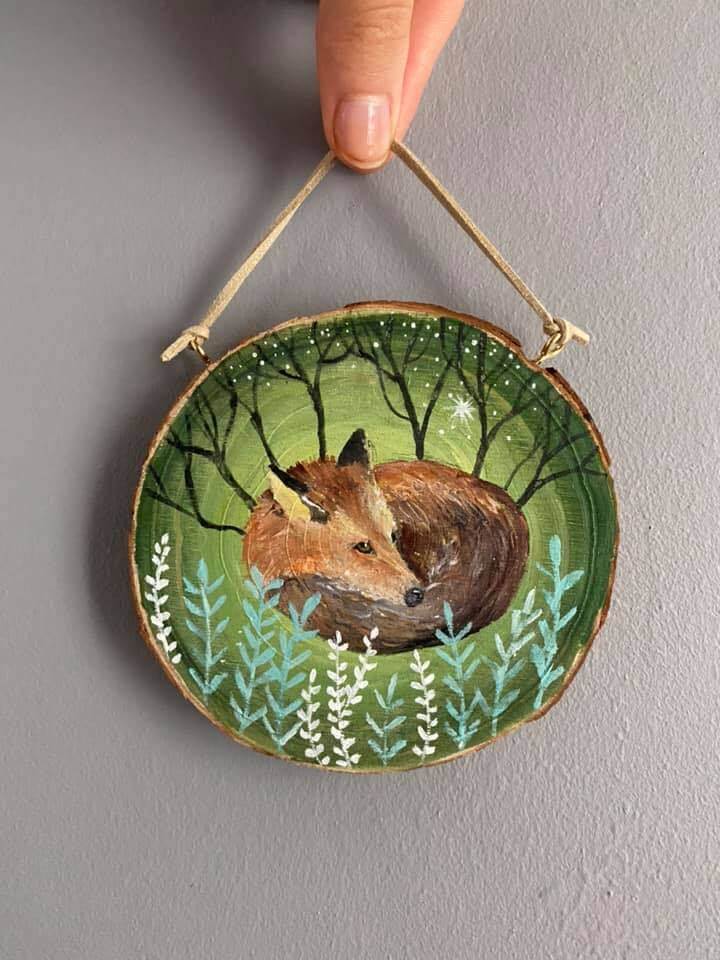 The Techniques and Tools of Creating Wood Art
Working specifically on paper and wood, Sandra's art is painted with acrylics giving them extra texture and layering that makes the art come to life. Sandra adds delicate details to her work but also enjoys creating splatters and flicks which create a depth to the work while providing the different effects that are so clear in her work.
As a company that is passionate about painting natural landscapes and the creatures that live in them, Sandra Shaw Art is sustainable and eco-friendly. Painting on wood as a primary material, all of Sandra's pieces are eco-friendly as they are natural materials.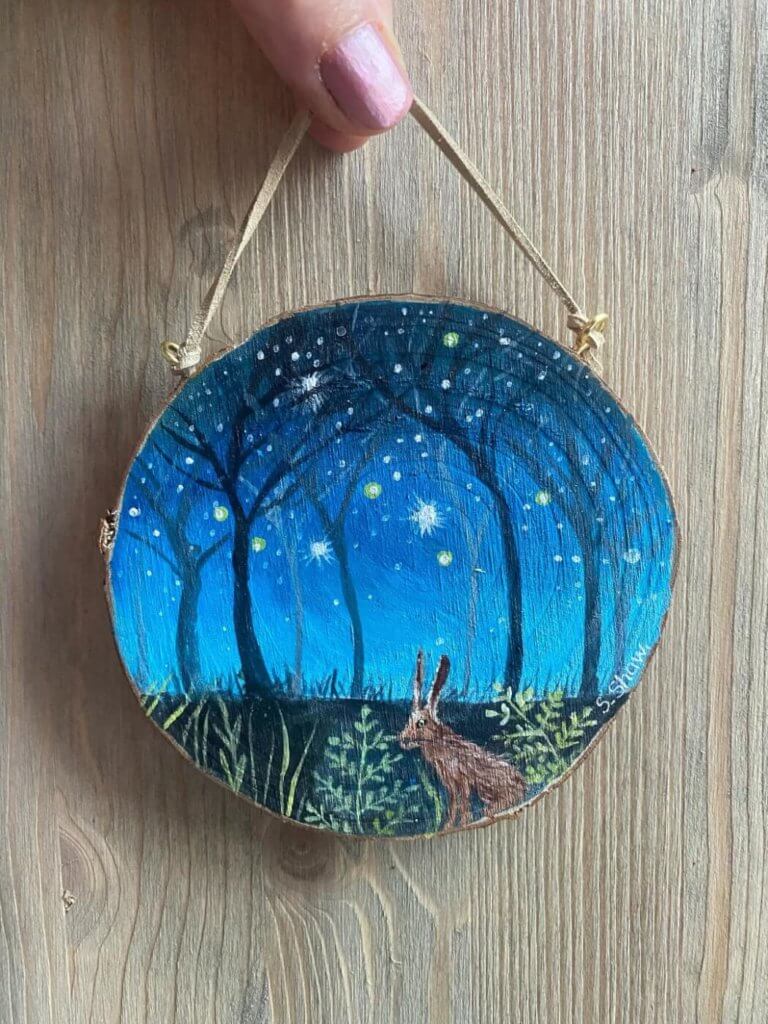 Designs and Commissions of the Natural World
A unique idea, one of Sandra's favourite designs are her log slices. Petite and hand crafted, they make a perfect gift for those who enjoy original art. Every year, Sandra Shaw puts out new pieces that have been designed to fit with each season. For Easter 2021, three easter log slices were created as well as wood eggs which sold out rapidly. 
Constantly innovating, Sandra takes commissions which are continuing to grow in popularity. Recently, Sandra has been developing a range of greeting cards, painting a full collection. They have detachable log slices that can be cherished long after the card has been disposed of. Watch this space to buy some of these unique offerings.
Buy Sandra Shaw Art with Danann Crafts
Sandra Shaw Art showcases some of the beautiful acrylic paintings that are uniquely created on wooden canvas. At Danann Crafts, we are proud to stock some of the best Celtic and Irish makers, celebrating the craftsmanship and skill that goes into every piece.
If you'd like to purchase one of Sandra's gorgeous pieces of art, use our special code ssablog10. This code will only be available for Sandra Shaw Art pieces until the 6th of September 2021, so don't miss the opportunity to get some of these special art works for such a great offer.