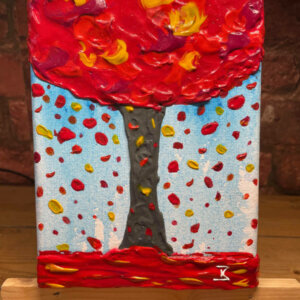 This Gorgeous Original Acrylic painting on Canvas made by Kateryna Zaichyk.Piece created in 2018.
A
One of a kind Original!
Thickly layered paint to create a beautiful texture look – totally unique!Measurements: 18cmx13cm
Quote from Kateryna -"To me art is as important as air. My life has always been full of art in all its variety of forms. I achieved my Environment and Landscape Design degree at Kyiv State Institute of Decorative and Applied Art and Design  Michael Boychuk  named and National Leadership Culture and Arts Academy of Ukraine. I moved to Northern Ireland in 2013 and I find nature to be very inspiring. I see pictures not only from an artist's, but also from a designer's point of view. It is very important that a picture look perfect in its place. When I paint I always consider what interior the picture might fit into, so that it becomes an integral part of its environment. Harmony is very important to me. I love to combine colours, textures, techniques, and styles for unique and vibrant results. I like to evoke emotions in people by my pictures — I believe that looking at a picture should be an emotional experience for the viewer. In my pictures I have animals, landscapes, flowers, majestic nature, and architecture. There are also still lives, and figure drawings and paintings. I never stop developing and improving my talents and skills."
Search
"Kateryna Zaichyk"
on our website to find all of Katerina's work!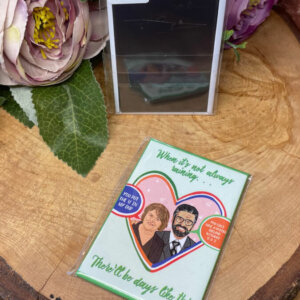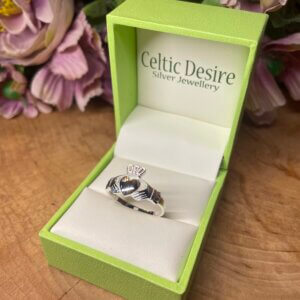 This beautiful Claddagh Ring is 925 Sterling Silver.Carefully crafted and designed by Irish Silversmiths and comes in a gorgeous light green presentation box."The Claddagh is an ancient Gaelic symbol which is now a universal symbol of lasting love, eternal friendship, and loyalty. It was first designed around 400 years ago in a small village near Galway, Ireland. The Claddagh symbol shows a crown above two hands clasping a heart in the middle.The Claddagh is often placed on wedding bands to represent holding a lover's heart in one's hands."With these hands I give you my heart and I crown it with my love."Claddagh SymbolismThe crown symbolises loyalty. The hands symbolise friendship. The heart symbolises love."Product Codes - RCL 041 Explore our entire range of Irish Jewellery Instore & Online.